Hockey bags are one of the most important pieces of hockey equipment. They don't directly affect your performance on the ice, but not having a quality bag can be a headache for any player at any level.
Hockey bags keep the rest of your equipment in good shape. They also help you to not lose any of your equipment. Finding a good hockey bag can be tough, and that's why we've put together a list of the best hockey bags for you.
SHORT ON TIME? Here is our pick.
CHECK OUT THIS HANDY COMPARISON TABLE
Show more
1) 36 Inch Heavy Duty Waterproof 3-Pocket Hockey Bag
Rating:
Manufacturer Specs:
High-density water-resistant material to stay wear and tear handling
Self-fabric handle on both ends for team lifting
Size 30" by 15" 15"
Extra heavy duty metal hardware
Super thick and wide handles with padded fabric grab/wrap
Adjustable/removable shoulder strap with anti-slip shoulder pad
Pros: This bag offers lots of space. It's also tough enough that it can suffer lots of abuse.
Potential Drawbacks: Some of the hockey players that have purchased this bag have complained about it being too bulky.
Overall Value: The K-Cliffs heavy duty large hockey equipment bag is inexpensive at just $24.99. It's considered a bit bulky by some, but you may like this bag if you want a tough bag.
---
2) CCM 310 Player Hockey Bag
Rating:
Manufacturer Specs:
*Made by CCM
*Medium size
*32" in length
*Colored black
Pros: While not as widely known as Bauer, CCM is a respected brand in ice hockey equipment. This should allow you to feel comfortable that your CCM bag will be well made.
Want to see a list of all our CCM Bag reviews? You can check that out here.
Potential Drawbacks: There have been few complaints about the CCM 32" hockey equipment bag. One thing you may notice, however, is that this bag offers a bit less space than many others on the market.
Overall Value: CCM delivers one of the best ice hockey bags out there. The reviews for CCM are positive for a reason. CCM offers great equipment at reasonable prices.
---
3) Mylec All Purpose Equipment Bag
Rating:
Manufacturer specs and features:
Heavy duty 600D polyester bag with U-style zipper

Polyester

Web handles
Pros:
Superb durability
High value for the price
Easy carry bag
Potential flaws:
Thin material – it's reliable and made from durable material, but will start to wear off eventually, ruining the outlook
Overall value for the cash:
The Mylec duffel bag is a great all-around durable ice hockey equipment bag that is good value for the money.
---
4) Jamm 36″ Senior Hockey Carry Bag
Rating:
Manufacturer specs and features:
Carry & end straps
Inside pockets
1000 Denier material
Molded plastic zip
Easy access large opening
Available in "black" and "navy"
Pros:
Extremely spacious
Very easy to carry
Versatile – suitable for various sport gear
Potential flaws:
Overall value for the cash:
Jamm's duffle bag boasts a massive value for the cash. It's a versatile bag that can accommodate virtually every single piece of your gear, as it comes outfitted with a remarkably huge, spacious compartment. Above that, it looks pretty nice, even though its design can be described as minimalistic.
Furthermore, it's not overly expensive, and it's made of high-quality Denier material. Generally, it's quite good for the price.
---
5) Hockey Canada Official 30″ Equipment Hockey Duffel Bag
Rating:
Manufacturer specs and features:
600 Denier Polyester & Honeycomb Ripstop material
Large main compartment
Double handles
Velcro grip
Pros:
Excels in aesthetics
Versatile, easy-to-use bag
Decently affordable
Potential flaws:
Overall value for the cash:
Hockey Canada's duffle bag is one of the best bags in our review. It holds a substantial value for the price, as it's exquisitely durable and it features a beautiful outward appearance. Furthermore, it excels in various spheres of performance, including portability and more.
---
6) Heavy Duty Cargo Duffel Equipment Travel Bag
Rating: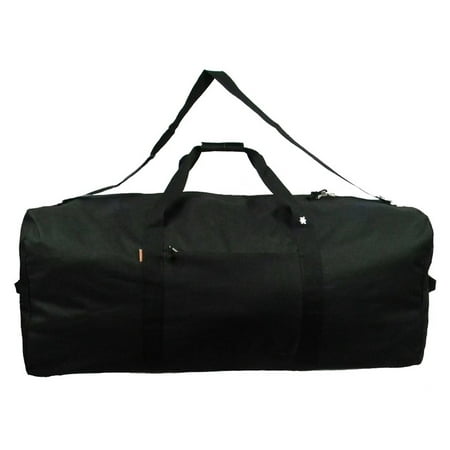 Manufacturer specs and features:
Available in "Black", "Camo", and "Navy" colors
Water-resistant properties
Thick, wide handles
Padded fabric wrap
Pros:
Decently versatile
Beautiful bag
Multiple color options
Water-resistant materials
Potential flaws:
Overall value for the cash:
While K-Cliffs heavy-duty duffle looks beautiful, it's not too durable, so you might want to consider using other bags for your heaviest sticks and chest protectors. Apart from that, everything's in order – the bag is decently versatile and quite beautiful, and there are multiple color options and sizes at your disposal.
---
Best Hockey Bag Accessories
---
Frequently Asked Questions
Does every hockey player need a bag?
Whether you are a ice, field or roller hockey player, duffel bags will certainly help because the sport itself requires a lot of equipment regardless of your skill level to make sure you are prepared for your game.
What size hockey bag do you need?
Choosing the right size for you primarily depends on how often you play and your age, since senior bags are meant to fit bigger equipment. Whether it's hockey tower bag, backpack bag, duffle bag, goalie bag, field hockey bag, carry bag the choice is simple when it comes to size.
What are hockey duffel bags made of?
Ice hockey duffel bags are made of natural or synthetic fabric with a top closure using a drawstring
Conclusion
We hope our list of hockey bags has helped you find one you like. It's not necessary to have the best ice hockey bag, but having a good one is certainly nice. If you have any comments or questions feel free to leave them below. We'll answer your question or acknowledge your comment as soon as possible.
Need a wheeled bag? See the best wheeled hockey bag options here.